Ultra South Africa Expands Further Adding Second Date in Cape Town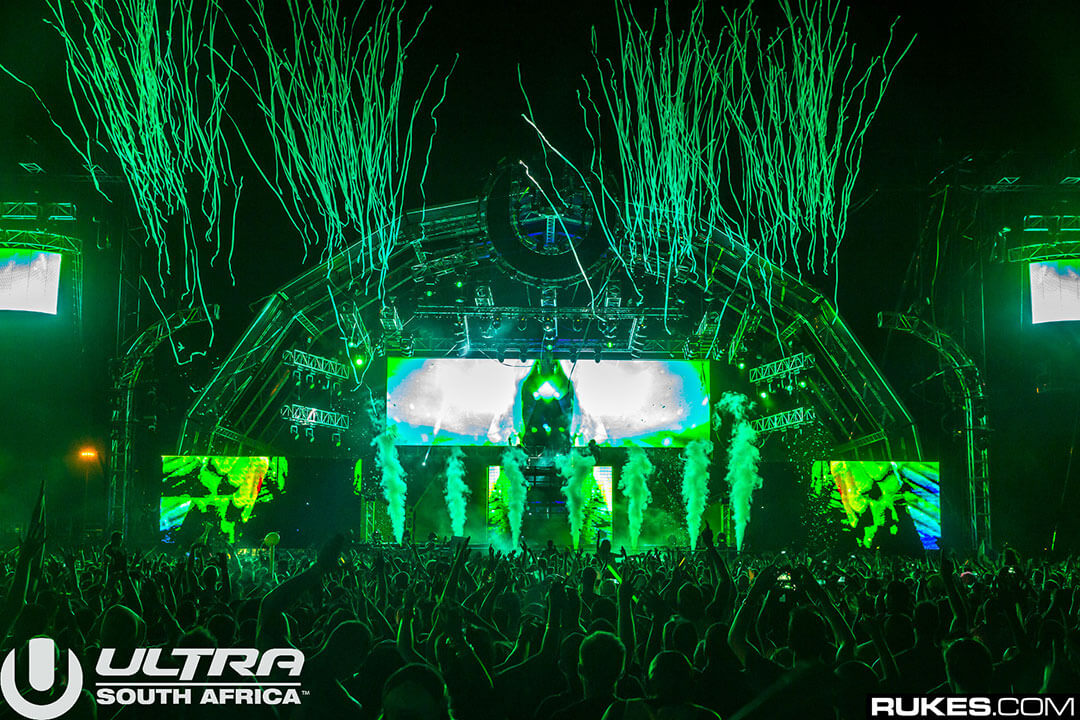 RETURNS TO ORIGINAL HOME AT THE WEST COAST OSTRICH RANCH, INTRODUCES CAMPING
JOHANNESBURG – FRIDAY, FEBRUARY 26 & SATURDAY, FEBRUARY 27
NASREC EXPO CENTRE, JOHANNESBURG
CAPE TOWN – SATURDAY, FEBRUARY 27 & SUNDAY, FEBRUARY 28
WEST COAST OSTRICH RANCH, CAPE TOWN
In response to demand from the local fans of the third edition of ULTRA South Africa, event organizers confirm they will be adding an extra date to the Cape Town leg of the 2016 festival, and will also introduce camping for the first time.
In another massive announcement for Africa's largest electronic music festival, it is now revealed that the Cape Town event will be returning to The West Coast Ostrich Ranch following original plans released earlier this year to relocate the event to The River Club, Cape Town.
Now set to take place across a total of four days, ULTRA South Africa will be held at The West Coast Ostrich Ranch, Cape Town on Saturday 27th and Sunday 28th February, and at Nasrec Expo Centre, Johannesburg on Friday 26th and Saturday 27th February, 2016.
For loyal ULTRA South Africa fans that have already purchased Early Bird tickets for the Cape Town outing, they will be rewarded for that loyalty and can enjoy a double day pass for the same, previously single day, ticket!
For those who haven't yet bought tickets, the new Cape Town ticket prices are as follows (Jhb prices remain the same):
GA 2-day Combo*
Advanced price: R1000
Full Price: R1250
VIP 2-day Combo*
Advanced Price: R1500
Full Price: R2000
*One ticket purchase grants access for the 2-day festival of choice (Cape Town or Johannesburg).
Please note: These prices are not inclusive of camping. Full camping details will follow in the coming weeks.
VIP Table booking information will be open soon. Prices will be available on enquiry and available exclusively to those that have bought VIP tickets.
Buy Now and Pay later: in partnership with Mobicred you can now pay of your tickets over a 12 month period. Go to mobicred.co.za/nutickets/ to apply for your account and for more information.
Follow Ultra SA on Facebook and Twitter for real-time updates on artists, tickets and camping, and for those that haven't yet, relive the breath-taking thrills of ULTRA South Africa by watching the stunning 2015 after-movie.
Social Media Accounts:
instagram.com/ultrasouthafrica
About ULTRA WORLDWIDE™
ULTRA WORLDWIDE™ is the global edition of the World's Premier Electronic Music event, ULTRA MUSIC FESTIVAL.
The ULTRA brand was founded in 1997 by Executive Producer, President & CEO Russell Faibisch, and began producing electronic music events in South Florida, which led to the inaugural Ultra Music Festival in 1999 on the sands of Miami Beach.
The internationally renowned festival, which has taken place every March since its inception, celebrated its seventeenth anniversary from March 27-29, 2015 by bringing over 165,000 music enthusiasts to the sold out waterfront event in the heart of the City of Miami. Ultra Music Festival returns to Bayfront Park for its eighteenth annual edition, 18-20 March 2016.
Choosing to follow a unique, creative vision and a wholly organic growth focused around a true love for music, artists and fans alike, the ULTRA and ULTRA Worldwide brands represent not only the world's biggest and most successful remaining INDEPENDENT electronic music festival brand, they are now the most international of any festival brand in the world by far. The event organizers continue to transport the unrivalled experience from the Miami flagship festival to an ever-growing number of destinations and fans all over the globe.
Over the past seventeen years, literally thousands of the world's most iconic DJs, producers and live acts have mesmerized audiences with awe-inspiring sets at ULTRA festivals in ARGENTINA, BRAZIL, CHILE, CROATIA, IBIZA, JAPAN, KOREA, SOUTH AFRICA and of course MIAMI, as well as ROAD TO ULTRA events in CHILE, COLOMBIA, MACAU, PARAGUAY, SEOUL, TAIWAN, THAILAND, TOKYO, USA, and now forthcoming events in BOLIVIA, PERU, PUERTO RICO, THE PHILIPPINES and SINGAPORE as well as ULTRA BEACH – BALI. Each and every new global edition is founded on the same successful recipe that has been perfected over seventeen years in Miami, combining the most diverse electronic talent with the most technologically advanced, large-scale festival productions in the world.
In addition, the ULTRA brands pioneered the live stream experience, 'ULTRA LIVE' (whereby the festival is brought online to over 20 million unique viewers globally) and the audio broadcasting platform 'UMF RADIO' (syndicated to FM Radio in over 42 countries and reaching more than 22 million listeners weekly). Also 'UMF FILMS' collaboration with FINAL KID has seen some of the most visually breathtaking festival aftermovies in the music space, including a feature-length documentary exploring the explosion of dance music, entitled CAN U FEEL IT, which premiered at the Ultra Music Festival, Miami 2012 and was exhibited in over 500 theaters across the Unites States.
In 2014, the ULTRA and ULTRA WORLDWIDE brands continued to push the boundaries, bringing an unparalleled combination of cutting edge production and the world's best electronic acts back to previous strongholds and new frontiers across the globe. With its most recent new festival editions breaking records in JAPAN in September 2014, SOUTH AFRICA in February 2015, KOREA in June 2015 and CROATIA in July 2015, and with the addition of the many new ROAD TO ULTRA events, the ULTRA brand has now united NINETEEN COUNTRIES across FIVE CONTINENTS worldwide.
About ULTRA South Africa
Ultra Music Festival, the World's Premier Electronic Music event, is an internationally renowned event that was launched in 1999 in Miami, Florida.
2014 saw Ultra expand into nine countries and five continents; one of which was Africa. The inaugural Ultra South Africa was brought to the country by Electric Music.  Ultra South Africa took place on 14th and 15th February 2014 in Cape Town and Johannesburg respectively, attracting a total of 40, 000 dance music lovers to party with the hottest lineup seen in the country at that time; including Tiësto, Krewella, Martin Garrix, Nicky Romero, Blasterjaxx, Afrojack and more, as well as a host of local names including DJs Fresh and Euphonik, Black Coffee and Goldfish. In total 9 internationals and over 100 local acts played the multiple stages to crowds that partied for over 12 hours in each city.  Ultra South Africa 2015 attracted in excess of 50, 000 dance fans through its doors to see a selection of the world's most in-demand international DJs and producers, including Armin Van Buuren, Axwell^Ingrosso, DVBBS, Gorgon City, Hardwell, Martin Garrix and Oliver Heldens. These global superstars were supported by a handful of South Africa's very finest local talent, including Black Coffee, Euphonik, DJ Fresh and Goldfish, all of whom performed across stages powered by some of the world's biggest and most advanced production.  Check out ultrasouthafrica.com for more information. www.ultrasouthafrica.com